LIGHT AS REVELATION - Sculptures and jewels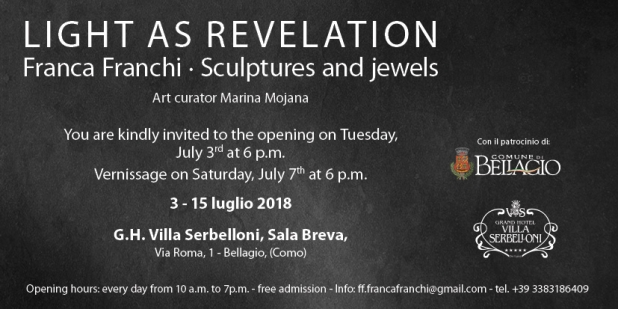 Villa Serbelloni 's traditional summer appointment with great contemporary Italian sculpture continues for the 2018 season with Franca Franchi's artwork. This artist from Piacenza is the only woman in Italy who founded "Zen in Art for Zen Aesthetic", the movement that art critic Gillo Dorfles endorsed in 2015.
The anthological exhibition, set up in Villa Serbelloni's "Sala Brera", has over twenty different three dimensional works of art: indoor sculptures, outdoor installations and jewelry sculptures. Through Franca Franchi's artwork, the concept of contrast in Zen Aesthetics becomes tangible, giving the contemporary Western world a form of art that is capable of penetrating the structure that surrounds it.
You are kindly invited to the opening on Tuesday, July 3rd at 6 p.m.
Vernissage on Saturday, July 7th at 6 p.m.
G.H. Villa Serbelloni, Sala Breva, Via Roma, 1 - Bellagio, (Como)
July 3 - 15 2018
Opening hours: every day from 10 a.m. to 7p.m. - free admission -
Info: ff.francafranchi@gmail.com