Biography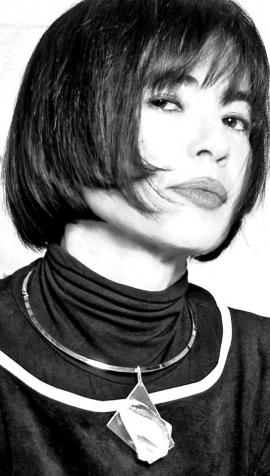 Born in Piacenza (Italy), after attending grammar school in her hometown and obtaining a law degree at Parma University, Franca Franchi practiced law, apparently overlooking her artistic skills, which her primary school teachers had identified, taking her part successfully in pictorial competitions.
At the end of 2008, inspired by the photographs of water crystals studied by Japanese researcher Masaru Emoto, she expressed an original artistic style creating compositions by recycling materials: mirror, glass and crystal shattered, applied on wood, steel or crystal, using, sometime, paint.
These works are harmonic, elegant and have a strong impact.
Thus begun a period of strong production and very intense participation to exhibitions and displays, both in private and public areas, in Italy and abroad.
In 2010 born sculptures to be worn, little compositions made by vitreous paste and glass on steel with a steel necklace, and in 2011 sculptures to be lived unique design pieces such as lamps (illuminated sculptures) and tables. Her artistic style gradually goes to a more essential form, a research of solid beauty, instinctive and simple, avoiding complicated or minute.
In 2014, Franca Franchi established with Massimo Tosini, ""Zen in Art - to a Zen aesthetic"" presented for the first time at the exhibition "Time without beginning and without end. The Zen meets contemporary art" at Park Hydroscalo - Time and Art Tower and Idroart Space in Milan, with support of the Province of Milan and General Consulate of Japan in Milan, in September 2014.
Her creative process was overseen by Gillo Dorfles who has supervised and hosted the exhibition "Il segno e la luce"(june 2015), event that took place in a suggestive medieval hamlet in Vigoleno (PC), which is famous also for the artists who have been connected with it over the years as Max Ernst, Lucio del Pezzo, Enrico Bay, Maurice Henry and others.
The famous art critic hosted also the jewelry collection "Haiku", inspired by the Zen aesthetic, at the Biffi Art Gallery in Piacenza from 15/12/2015 to 13/2/2016 and the exibition "The Cristal overcomes the Simmetry" held at Galleria Rossini - Jewellery Art Gallery in Milan (8th November / 3rd Dicember 2016).
Reference is made to the artist in the last two pages of Gillo Dorfles's anthology "Gli artisti che ho incontrato" (Skira 2015 page. 848-849).
Also the italian newspaper "Corriere della Sera" wrote about Franca Franchi, who started to work full-time as sculptress and designer in 2016. The whole page article, signed by Melisa Garzonio, is named: "The artist who has donated an aesthetic Zen to Baroque" (pag. 34 on 11 june 2016).